Client Challenge
Canon "… needed a trusted partner to work with our industry and subject matter experts in developing high-quality, thought-leadership content focused on warehouse and supply chain management topics… Peerless Content Creation (PCC) fit the bill."
— Ken Neal, Director, Corporate Communications, Canon Business Process Services
PCC Solution
PCC worked with Canon to develop several thought-leadership content pieces showcasing Canon as an industry leader in integrated warehouse and distribution solutions. PCC developed content based on real-world problems backed up by industry expertise and research to highlight Canon as a problem solver.
In fact, the PCC team has more than delivered. Working together, we have leveraged solid industry research, quality writing, and the experience of our executives to produce top-notch content spanning diverse platforms. The PCC staff are true professionals who get the job done.
Ken Neal
Director, Corporate Communications, Canon Business Process Services
See Examples of Our Work for Canon
We invite you to request downloads of content we've created for Canon.
Making the Case - for an Integrated Warehousing & Distribution Solution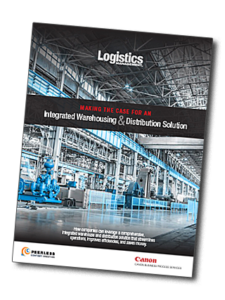 White Paper - Warehouse and Distribution Center Best Practices: Why Operational Efficiency and P&L Management Strategies Are Crucial for CFOs